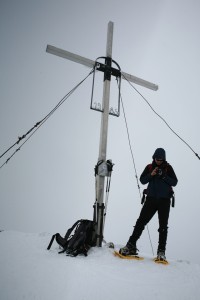 Zwischen 15.-17. Februar war ich mit Matthias auf der Potsdamer Hütte in den Stubaier Alpen. Von dort aus haben wir den Roten Kogel (2.832m) gemacht.  Die Tourbedingungen waren sehr gut aber die Sicht am Tag der Tour ließ zu wünschen übrig. Die Orientierung ist jedoch auch bei sehr schlechten Sicht-Verhältnissen einfach und die Tour selbst bei erhöhter Lawinengefahrstufe relativ sicher.
Between 15th-17th of February I was with Matthias in the Stubaier Alpen. From the Potsdamer Hütte we went to Roter Kogel (2.832m). Most of the time we coudn't see anything, actually on the way back the sight was so bad  – snow was white, sky was white – that we had problems to detect our own traces. But even like that finding the way was not at all difficult and I would say the tour was pretty easy.
Der GPS-Track unserer Tour. Die sehr hohe Geschwindigkeit auf der Strecke Potsamder Hütte – Parkplatz Sellrain erklärt sich nicht durch unsere Kondition (nicht vergessen, wir sind die langsamsten Bergsteiger der Alpen) sondern durch den Einsatz von Rodeln.
Here is the GPS_track of our tour. The very high speed at the end of the track is due to the sledges we used to get down from the Potsdamer Hütte to the parking place in the valley.
[breadcrumbs track="133551″]